Services
LCRS has the capacity to accommodate 50 persons at a time; in rustic but comfortable buildings, which all but two are elevated for improved ventilation. The living quarters range from 4 bed private cabin bedrooms to bunk houses able to accommodate up to 10 persons in a room. At the present moment LCRS has 12 buildings, which include: The Main Building, BATSUB Building, Conference Room, 4 cabins, kitchen, plant dryer room, Nissen Hut, storage room and a generator house.

Las Cuevas Research Center can offer services such as accommodation, meals, round trip transport, trail and cave guides, lectures on tropical studies, and exploration.
LCRS hosts a trail network of over 18 km, which give you the opportunity to explore the area's rich and unique diversity of flora and fauna, ancient Mayan site, spectacular cathedral like caves and pristine rivers. Trail difficulty levels range from low to high and vary in distances that can be hiked in an hour to a full day.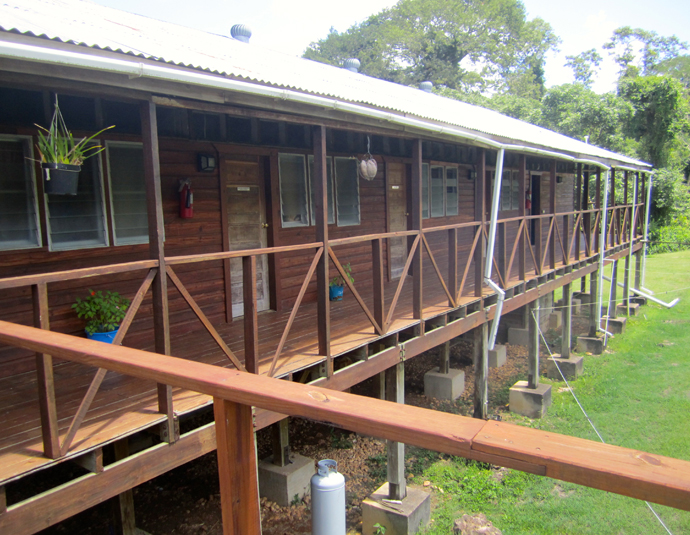 The cave at LCRS was originally referred to as the "Awe Cave" and is now called Las Cuevas. It is believed to be the most heavily modified cave in the whole Maya Mundo Region; used by the ancient Mayas for ceremonial purposes during the later part of the Late Classic Period (700-­‐900 AD). It is located less than 100 m from the LCRS Main Building. The main chamber has a length of 335 m, making a loop terminating 8 m above a window that overlooks the cave entrance and cenote. The cave entrance is massive measuring 28 m wide and opens into a cathedral like chamber with dimensions 108 m in length, 40 m in width and 17 m in height. The cave entrance is highly modified containing terraces, retaining walls, stairs and platforms topped with a thick plaster. At the middle lies a cenote with a live natural spring to which 5 stair ways lead to. Investigation so far has recorded a total of 58 separate platforms all connected by stairways indicating that the cave was used for large and well organized ceremonies.